West Forest Sinfonia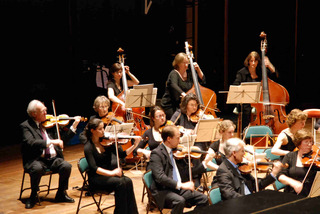 The West Forest Sinfonia gives concerts of professional quality, drawing its membership from the extraordinary pool of talent that exists in Berkshire. In addition to the series of concerts at St Paul's Church, Wokingham, and Reading University Great Hall, the orchestra is regularly hired to accompany local Choral Societies in a number of adjacent counties. Recent appearances include performances with High Wycombe, Wokingham and Fleet Choral Societies, and Aliquando.
Principal Conductor: Philip Ellis
Leader: Giles Wade
Patron: Lady Elizabeth Godsal
Next orchestral concert: 31st January 2021
News
We regret to annouce that due to the Covid-19 pandemic, our orchestral concert on 4th October 2020 has been cancelled.
For the latest updates, find us on Facebook

or follow us on Twitter:
Tweets by @WForestSinfonia